Container Semi-trailer is a special transport vehicle that is able to fit and carry a container, equipped with a frame type platform and a rotary clamp device on the cargo platform for transporting containers.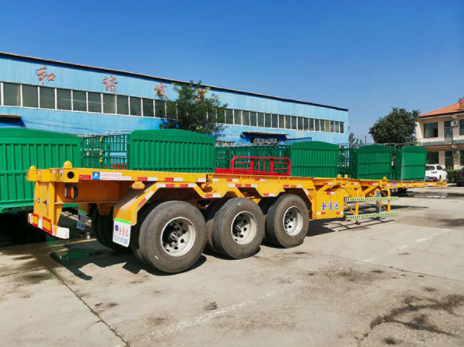 Container Semi-trailer Features:
1.Super durability and load capacity;
2.Suspension system:Heavy duty suspension system with steel spring plates;
3.Main beam material:Manganese Plate,automatic submerged arc weld Processing;
4.Brake system:emergency brake system, air drive brake with dual air pipelines.
The Container Semi-trailer for sale is used to transport large quantities of goods in industrial transportation,the main plane of the frame is low and the transportation is stable.
If you need to buy container semi-trailer, jintongda is your best choice. As professional container semi-trailer manufacturers, our special container semi-trailer factory can be customized according to your needs.
Trust us and contact us!