As the main part of the car body, the semi-trailer carriage plays a vital role. Today, the editor and everyone will understand what is the qualification standard for China semi trailer carriages? Gain some knowledge!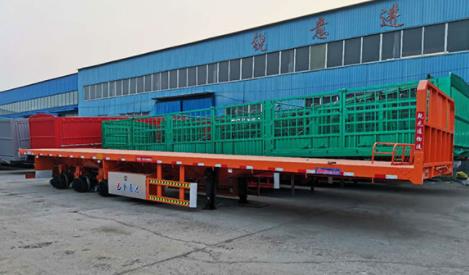 1. The car body must not be severely deformed, cracked, rusted, rivets falling off, and threaded connections loosened.
2. There shall be no sharp protrusions inside or outside the carriage that can cause injuries.
3. The compartment board of the carriage should be flexible on and off, and reliable in connection and locking.
4. The gap between each compartment plate and between each compartment plate and the bottom plate of the carriage should not be greater than 3mm.
5. The tipping control locks of dump trucks and semi-dump trailers can be inserted or drawn flexibly and locked reliably.
6. The carriage should have a front safety frame and cable hooks.
As China semi trailer manufacturers, Jintongda has been specialized in producing China semi trailer for many years. And there are many types of production, such as Flatbed Semi-trailer, aluminum semi dump trailers and so on.