The container is usually installed on a wheeled metal frame with twist lock (pin) of the container chassis. The container site is usually called an intermodal chassis or skeletal trailer, is a type of semi-trailer designed to transport shipping containers.
The container semi trailer is an important vehicle for road transportation, which has the advantages of speed, maneuverability, flexibility, safety, etc.; it can easily achieve segmented transportation.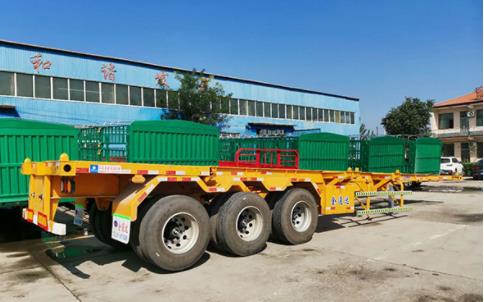 Tare weight: 5900 kg
Total length: 12400mm
Deck length: 8000mm
Total height: 1450mm, 1500mm, 1550mm, 1650mm, 1700mm, etc.
Overall width: 2480mm,2500mm
Payload: 40000 kg
Jintongda is a container semi trailer supplier. The container semi trailers we produce are specially used for the transportation of various containers. They can be used repeatedly for a long time and have sufficient strength. And using our container semi trailer for sale, it can be quickly disassembled, and it can be directly and conveniently converted from one kind of transportation to another, such as changing cars and ships.
Finally, as container semi trailer manufacturers, we would like to say that if you want to choose a container semi trailer made in China, Jintongda is your best choice.