As a leading flat semi-trailer manufacturer and supplier, we sell a variety of series of semi-trailers, such as container semi-trailers, flatbed semi-trailers, dump semi-trailers and so on.
The Low Flatbed Semi-trailer is a multifunctional, open trailer, used to transport various products and materials, and is extremely convenient for loading and unloading. Semi-trailer Low Flatbed can be made of a variety of materials, with a variety of sizes, and with different axle/suspension configurations.
Below we provide a lot of information about Semi-trailer Low Flatbed, so that you can better understand.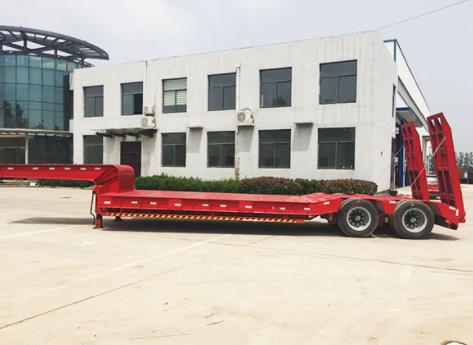 Low Flatbed Semi-trailer application:
1. Mechanical equipment 2. Road construction equipment
3. Large storage tank 4. Power station equipment
5. Transportation of various steels
Low Flatbed Semi-trailer specifications:
1.Axles width 1310
2.Steel spring plates 4/8/10
3.axle 13T
Semi-trailer Low Flatbed adopts a heavy-duty suspension system with steel spring plates and is equipped with an emergency braking system to ensure personal safety during driving.
Jintongda is a professional Semi-trailer Low Flatbed factory. The Flated Semi-trailer we produce can meet your cost-effective needs. So, if you have any needs, please contact us in time!