Jintongda is a manufacturer specializing in the production of semi-trailers, and there are many types of production, which can fully meet your semi-trailer needs. A semi-trailer recommended to you today, Flatbed semi-trailers.
Flatbed Semi-trailers are open semi-trailers, typically 48ft or 53ft in length. Flatbed Semi-trailer has two or more rear axles, that are usually fixed, spread, or sliding. Tires generally have 12. Our Flatbed semi-trailers are available in three sizes, namely 12M, 12.5M, and 13M.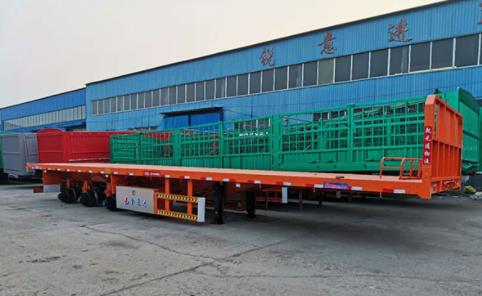 Flatbed semi-trailers have a wide range of uses, so they are often used in cargo transportation. Our Flatbed semi-trailers for sale can be used to transport the following goods:
1. Rebar materials
2. Wood
3. Pipeline
4. Precast concrete
5. Building materials
6. Other products that can be tied to a flat deck.
If you want to move large products, you can choose Flatbed semi-trailers. We also have Low Flatbed semi-trailers. Low flatbed semi-trailers usually use a concave beam (or tic-shaped) frame, which is also suitable for transporting large machinery and equipment.
Jintongda adheres to the principle of "Quality First, Customer First" and focuses on the production of high-quality Flatbed semi-trailers. Therefore, when buying Flatbed semi-trailers, Jintongda is your best choice.