Most industries use large containers to transport goods, so container semi-trailers are needed. Containers are still one of the safest ways to transport fragile and sensitive goods. Container semi trailer can design different specifications according to the height and quality of the container to adapt to different containers.
Container semi trailer is suitable for 20-foot and 40-foot container skeletal semi-trailers. The casing is heavy-duty with I-steel design and has super durability; and the high-strength steel Q345B welded by automatic submerged arc welding is selected. The upper flange is 14mm and the width is 140mm; the middle flange is 6mm; the bottom flange is 16mm and the width is 140mm.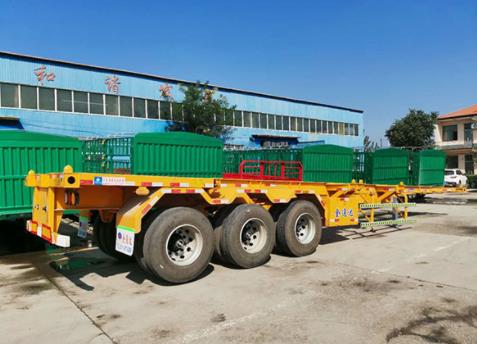 Container Semi Trailer Features:
1. Sturdy and sturdy structure
2.The main plane of the frame is low, which ensures the smooth transportation
3. Strong load capacity. Super durability
4. The chassis is sandblasted and coated with two layers of protective paint
Why choose Jintongda?
1. The flatbed semi-trailers produced by our company are divided into flatbed type, concave beam type and exposed tire type. The frame is trapezoidal, the beam section is I-shaped, with high fracture strength and strong bearing capacity.
2. Based on strong technical support and top technology, the truck has higher quality and reliability
3. The key parts adopt the world's top technology products
4. High-quality after-sales service
As a Container semi trailer manufacturer, Jintongda has professional technology and rich experience. For our container semi trailer for sale, we have great quality assurance, so please rest assured to cooperate with us.