The low flatbed semi trailer is one of our Jintongda's main semi-trailers. As a China low flat semi trailer manufacturer, the China low flat semi trailer produced by Jintongda meets the national quality inspection standards.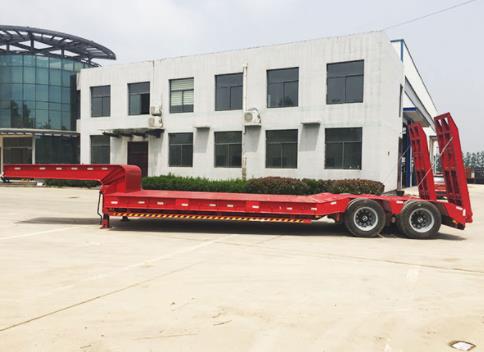 The low-flat semi-trailer has no rails on the vehicle-mounted part and has a wide range of uses, mainly for medium and long-distance freight transportation. The frame of the series semi-trailer is a through-beam structure, and the longitudinal beam adopts a straight and live gooseneck type.
Low flated semi-trailer is usually used to transport heavy vehicles (such as tractors, buses, special vehicles, etc.), rail vehicles, agricultural machinery (such as excavators, bulldozers, etc.) and other heavy-duty goods. The lower the center of gravity, the more stable The better the safety and security, the stronger the ability to transport ultra-high cargo and pass overhead obstacles.
The above is just one of our professional semi-trailers, we can design and produce according to customer requirements. If you have any questions, please feel free to contact me! !